GreenSense
GreenSense™ is Innergie's commitment to the environment.
At Innergie, we believe that protecting the planet is the right thing to do, and GreenSense™ represents our dedication to reducing our impact on the environment across every segment of our business.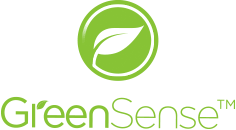 We began our GreenSense™ eco-commitment with a simple mission - to make power products more energy efficient, and by doing so, enabling people to do more while using less power. Because of our technical expertise as a leading power company and our total focus on power development, we've achieved this goal.
Yet, we've come to realize that our eco-commitment must encompass more than just producing energy-efficient products, and GreenSense™ has come to
represent an even larger mission at Innergie. Now, in addition to continuing to
maximize the energy efficiency of our products through better design,
we are also working to make our own facilities, production lines, and
delivery systems even more efficient while constantly looking for ways to make better
use of resources and materials.
GreenSense™ is our simple, straightforward commitment to protecting the environment.
We believe that each step we take will have a positive impact on the planet, and we
will continue to work to make the world a greener place, guided by our
GreenSense™ eco-commitment, today and in the years to come.
| | |
| --- | --- |
| Miracle 3 % High Efficiency | Smaller Package |
GreenSence ™-- Miracle 3 %, Value of high efficiency convert rate

We try all our efforts to minimize any the possible loss during charging, because we firmly believe Mother Earth is the most precious resource that each of us shall treasure. With the mission in our spirit, we strive every possibility from design to material usage for it. Many a little makes a mickle of the miracle. Every 1% of the energy saving is the continuous effort we drive ourselves to the top. With industrial leading 3% higher power conversation rate, we save the power produced by 10 nuclear plants together with each of our customers yearly. High efficiency with 91% conversion rate, reduces 3% energy wasted each time you charge your device with Innergie. Our efforts in creating this 3% miracle happens while you enjoy the powerful digital life, where we can still minimize burden to our environment.




A smaller package, A day closer to sustainability



Since the beginning of Innergie, we successfully reduced 35% of the package volume. It is our company's responsibility to make use of the least environmental cost in order to realize a sustainable future.



Protect your devices while powering up.
InnerShield Protection™ is Innergie's complete power supply protection technology set,
designed to keep your devices safe from irregular power occurrences.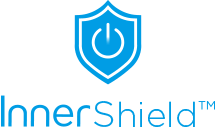 Equipped with the most comprehensive power supply protection technology in
the industry, our chargers feature five layers of protection integrated together
in our InnerShield Protection™ system.
At Innergie, we believe that a good charger provides your portable devices with power, but an excellent charger does so
while also protecting them.We take electrical and electronic safety very seriously, since we understand that anything
related to power usage canhave serious consequences. As a result,
our chargers are designed to guarantee the safety of not only your
portable devices, but also you, your family, your property, and your data.
With Innergie's InnerShield Protection™ , you'll no longer need to worry about the problems caused
by power surges, over-heating, and other power hazards—our InnerShield Protection™
provides you with steady, stable power and peace of mind.
Five layers of power supply protection :

---
SmartBoost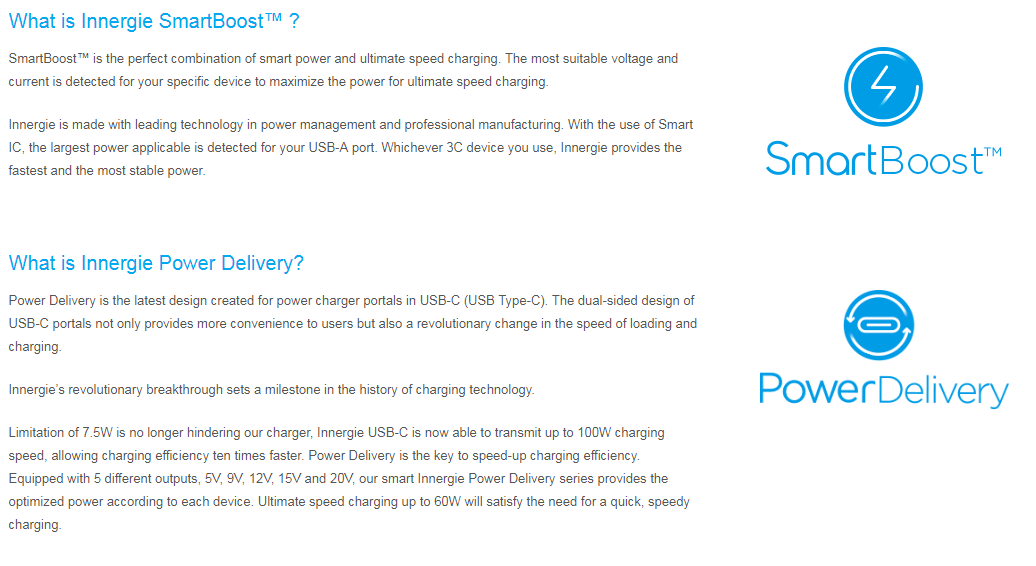 With powerful and ultimate speed charging, how would Innergie make your charging life as easy as breathing?
Power Delivery makes charging fast and easy. 5 different voltage converters are built-in for flexible usages on different devices. You will not need multiple chargers for multiple devices anymore. Be a mobile phone charger, a tablet or a laptop one, Innergie have it now All-in-One. A whole new charging experience with Innergie, charging and power is no longer a headache. Just hook on and it will deliver the best power possible.